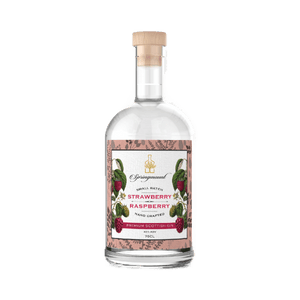 SPRINGMOUNT - STRAWBERRY & RASPBERRY GIN (70cl, 40%)
Springmount - Strawberry & Raspberry Gin (70cl @ 40%)
The scent of summer comes streaming out of a bottle of our Strawberry and Raspberry gin! This gin features a total of nine botanicals including Scottish
strawberries, one of the purest waters in the world and Royal Deeside Honey. We have expertly combined these ingredients to create a light, sweet and fruity taste.
Springmount Strawberry and Raspberry gin is sweet, smooth and refreshing.
Tasting Notes
Nose: bursting with the scent of summer
Palate: sweet with red berries
Finish: long, lingering berry notes.
Perfect served with a premium Mediterranean tonic and a slice of strawberry.