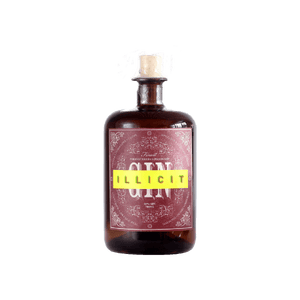 ILLICIT GIN - ORIGINAL (70cl, 40%)
Illicit Gin - Original 70cl @ 40% ABV
Product Description
Illicit Gin is produced in small batches using a traditional, direct-fired copper pot still, taking inspiration
from the methods used by illicit distillers of old. It is a truly classic London Dry, with a burst of juniper on
the nose giving way to warming spices and a lingering, dry finish.
Appearance: Oily, clinging to the glass, with well-spaced slow running legs.
Nose: An initial burst of juniper – resinous, with pine and citrus peels. Fresh and clean, slightly
mentholic, even.
Palate: The earthy spices of clove, cinnamon and nutmeg combine to create a warming sensation,
balanced by the light citrus. An initial heavy sweetness reminiscent of fruit cake gives way to a slight
bitterness. Mouthfeel is smooth and mouth-coating from the juniper oils.
Finish: Long and drying, with nutmeg and a hint of ginger.
The Illicit Spirits Distillery, established in 2017 by distiller Darran Edmond, is a true urban craft distillery that uses traditional distillation methods to create modern spirits. The name Illicit Spirits is a nod to both the era of illicit distilleries and also the Illicit Spirits location – hidden in plain sight just like the speakeasies of old.
You'll find the distillery tucked away in a repurposed railway arch that was once used for illegal raves in the Tradeston area of Glasgow, producing small batch spirits on their 150L direct-fired copper pot still.
The Illicit Spirits Distillery will be a testbed for a number of exciting craft spirit projects and collaborations in the future.